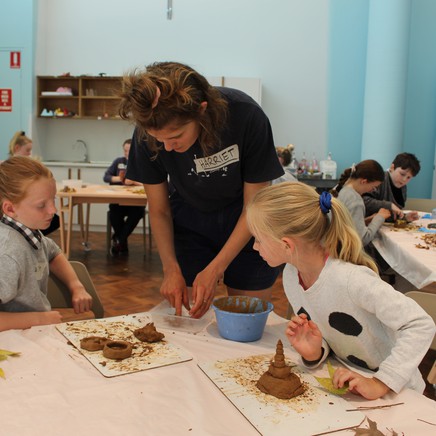 Event
Yours- A new creative project with Harriet Body
Workshops
Monday 25 January 2021
10:00AM - 12:00PM
Free
Throughout 2021 Harriet will lead a number of workshops that will see seniors and children aged 4-5 collaborating to create artwork for exhibition.
Participants will join Harriet to meet and create work together. The free workshops will take place every 1-2 months of a Monday morning 10am-12pm. Participants will connect with and learn from each other, sharing stories and their lives and experiences.
The project looks to Intergenerational Care models for inspiration and expects to provide many benefits to all participants.
Canberra based artist, Harriet Body works across painting, textiles and ceramics. Her creative process is slow and meditative. Through the reprtition of mark-making or form-shaping, her work is all about watching something grow and then end. She works with natural materials to imbue her artworks with birth (egg yolk), life (plant dye), death (charcoal), memory (pulverized rocks), allowing for audiences to recognise their life as a part of every day life.
To register your interest or to enquire further contact the Gallery.
All Events