Bolstering the artists of the future.
Ring our bell, or we'll come out to you
School Programs
Through education, the Gallery can support the learning of young people as well as making art and artists part of everyday life. Providing opportunities to schools is a most efficient and effective way to reach as many as possible! The Gallery offers a vast variety of engagement opportunities to schools that are accessible, valuable and free and these can occur in house or on campus.
Education Officer, Kirsten Jeffcoat, along with other staff regulaly visit schools and bring the Gallery to you, as best as we can. Kirsten is a qualified Visual Arts teacher and can address specific current curriculum and syllabus content in tailored programs, as well as offer professional development for teachers.All visiting staff will hold a working with children check and are experienced at working with school children of all ages, temperaments and abilities.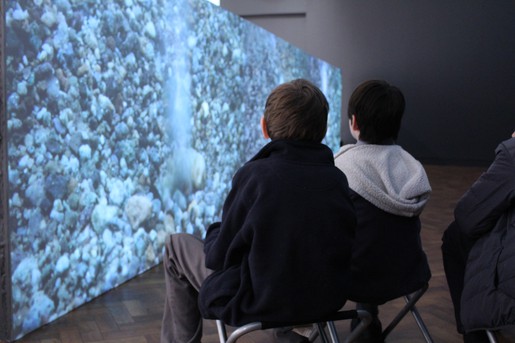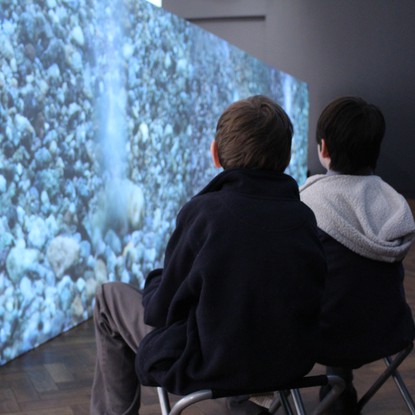 Free tours
The Gallery offers free exhibition tours to all school groups. Each session is tailored for each visiting group and can cater for preschool, primary, high school and tertiary education levels. Tours include student led discussions on the exhibition, a deeper look at key works and a simple theory or practical activity. We recommend booking in at the beginning of term to ensure you secure a spot.
See the Venue and safety report designed to help with school excursion requirements.
Workshops
For deeper engagement, learning and some fun, the Gallery runs focussed workshops for school groups. These workshops are paired with an exhibition tour and offer students the opportunity to work with exhibiting artists. Under the guidance of the artists, students are able to learn more about the artist's practice, about using new technology or a technique and have first hand experience of contemporary art practice.
Past workshops include:
Indigenous Art Education outreach program with curator and artist Amanda Reynolds
Storytime with Alfie Walker for preschools to coincide with NAIDOC week
Aboriginal Art program with Wiradjuri Echoes for primary schools
Stop motion animation workshop with Arlo Mountford for high school students
To register your interest in upcoming school workshops please contact the Gallery.
Outreach
The Outreach Program for schools has been developed by the Gallery to counter the many challenges teachers and schools can face in visiting us. This program provides access to exhibitions and artistic practices through an offsite exhibition tour for schools. Using images, art trails, video and other resources, the program provides a student led discussion on focus works and a theory or practical activity.
Contact the Gallery to discuss your next Outreach session.
Classroom resources
Education Kits and Art Trails are available for selected exhibitions. Prepared by our Education Officer these resources are designed to be used by students of all ages. Education Kits and Art Trails may be used in the Gallery or classroom post exhibition visit or alongside a catalogue or website. The resources feature a vast variety of theory and practical activities aimed at supplementing learning and understanding when engaging with the exhibition or focus work. These resources can be downloaded here.
Digi Tours
If face to face engagement options are challenging, then we can can come to you by the magic of technology.
We offer digi tours live or as a pre-recorded resource upon request. Hit us up!