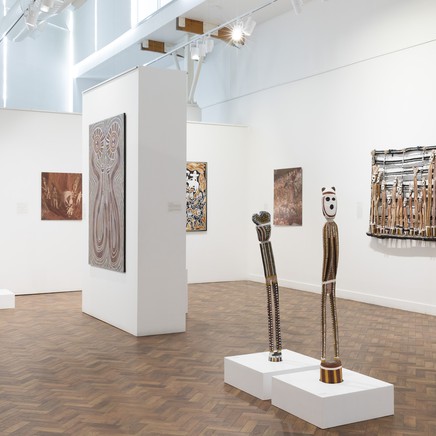 Event
Yidumduma Bill Harney Bush Professor
Opening Night
Friday 9 February 2018
6:00PM - 7:00PM
Join us for the opening of Yidumduma Bill Harney Bush Professor.
A retrospective exhibition celebrating the life work of Yidumduma Bill Harney. At over 80 years of age, Harney is one of the last fully initiated elders of the Wardaman people. He is a charismatic storyteller and artist and the only remaining living custodian of the collective memory, laws and history of his people. Harney's knowledge has been described by anthropologists as 'encyclopaedic in nature' and his artwork is one way that he shares this intimate understanding with the world. The exhibition is curated by Margie West who says "His contemporary painting is a fascinating look into topics as diverse as traditional law, astronomy, sorcery and ancestral narrative." The exhibition is toured by the Godinymayin Yijard Rivers Arts & Culture Centre, at the community of Katherine, Northern Territory.
Exhibition continues until 24 February.
All Events