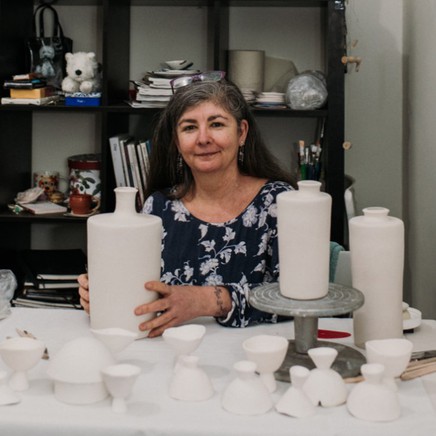 Event
Workshops with Jacqueline McBeath
Kids
Tuesday 16 November 2021
3:45PM - 4:45PM
$5
Tuesday 16 OR Friday 19 November
For children and their adult
Create together with Artist in Residence Jacqueline McBeath.
Join us in the Gallery for an afternoon of creativity, conversation and one big magical tea party. Artist in residence Jacqueline McBeath, will guide children and their adult in sharing their story through decoration onto ceramic teacups and saucers using ceramic markers and paint. Work will require time in an oven after the workshop.
Who is Jacqueline McBeath?
Jacqueline is a Sydney based Visual Artist working predominantly in ceramics. She joins us here in Goulburn for the STA Artist in Residence program, organised by Southern Tablelands Arts and supported by Create NSW.
Finding inspiration in the everyday happenings of life and pleasure in connecting the threads of history, culture and creativity, her work is largely autobiographical and grounded in domesticity. Jacqueline explores themes of identity, relationships, and contemporary domestic life through a feminist lens.
Jacqueline enjoys sharing her passion for ceramics tutoring both children and adults at several local art centres and privately from her own studio on Sydney's North Shore.
Please note the following conditions for this program:
Masks must be worn by all visitors over the age of 12
Adults must be vaccinated and be able to produce proof of this status to attend
Bookings are essential and confirmed with payment only. Refunds cannot be issued for workshop non-attendance
Places are limited and social distancing measures will be in place
You will be required to check in at the Gallery office using the Service NSW QR code
All participants will be issued with a set of art making materials which will be cleaned before and after use
Bookings can be made direct with the Gallery by phone or email.
For more information on the Artist in Residence program visit the Southern Tablelands Arts website.
All Events