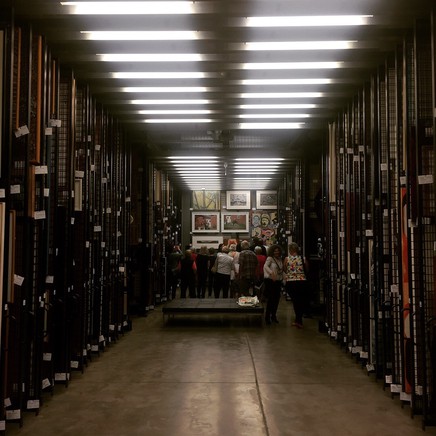 Event
The 2019 Bus Trip is on: The Laverty Collection, Alex Seton and Bloodwood
Bus Trip
Friday 18 October 2019
8:15AM - 5:30PM
$110/friends $99 includes transport, lunch and drinks. Departing from the Gallery.
Join us on the 2019 Bus Trip and visit the intimate spaces of two of Australia's most generous arts advocates. Our trips are designed to give you access to the vaulted spaces that provide the most memorable experiences (and a great lunch).The Laverty Collection has been built since 1995 when Elizabeth and her late husband Dr Colin Laverty travelled extensively to Central, Western and Northern Australia, visiting Aboriginal communities. Now this collection has been described as one of the most important private collections of Indigenous art in the country. We have been invited into Elizabeth's home to tour the collection and hear her own take on the highlights, nuances and joys within.
With Alex Seton's exhibition 'The Great Escape' scheduled at the Gallery in February 2020, this is a special chance to be introduced to his work from within the studio and trust us, it is incredible! Alex is known for his exquisite marble carvings and works across sculpture, installation, photography and video. Hailing from Taralga, Alex maintains a fascination with the local Wombeyan caves and marble and we will hear about his practice and coming exhibition first hand.
An eight course lunch with good wines will be held in between at Bloodwood Newtown, headed up by the renowned chefs Claire Van Vuuren and Mitchell Grady. Claire will be on hand to welcome and introduce us to the menu.
This is a rare chance to spend time with two passionate and generous people who have contributed greatly to the arts, and we thank Elizabeth and Alex for inviting us in to their private spaces. Get to know us a little better and book your seat today.
Bookings are open until 4 October via Eventbrite or direct through the Gallery. Pick up/drop off available at Sally's Corner.
All Events