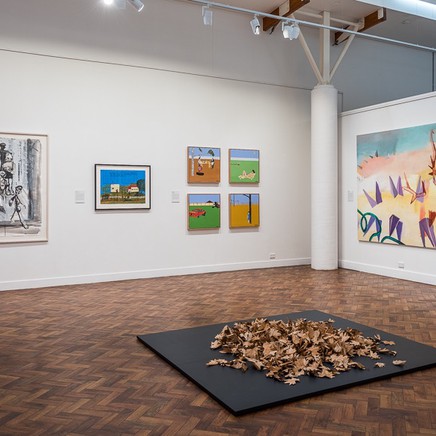 Event
Spatial Relations: In conversation
Talk
Friday 16 November 2018
1:00PM - 2:30PM
Free
In conversation with Ray Monde, Isabelle Toland and Gina Mobayed.
Join us for a lively conversation with three practitioners as they discuss their work in space. Not outer space just spaces, like galleries, homes, re-purposed heritage buildings.
Ray is a seasoned artist based in Braidwood whose work in 'Coarse Stories' explores the private realm of the Australian backyard, Isabelle is a highly regarded architect and director of Aileen Sage and Gina chimes in with her many years of working with art in and outside of gallery contexts.
'Coarse Stories' traverses ideas of the urban experience, and how this can inform the way we think and feel in the spaces we inhabit. This convo will bounce across a host of ideas relevant to the show whilst offering a fascinating insight in to the work of artist, architect and curator. A little sparkling will be served and as always, its free.
Ray Monde
Monde's work explores themes of persecution, isolation and redemption. His solo show 'Dry your Tears', Sturt Gallery 2014, and 'It's for your own good', M16 Artspace, delved into the childhood experiences that shape our lives as adults. In 2018 Monde exhibited 'Over the back fence' with Michael Reid Murrurundi, looking into the private-public lives of suburban gothic landscapes. Four of these works are presented in 'Coarse Stories'.

Monde was a semi-finalist in the Doug Moran Portrait Prize 2017, finalist Wyndham Art Prize 2017/18 and Gold Coast Art Prize, 2015. Ray completed a Bachelor of Arts at Charles Sturt University in 1994, he worked in advertising as a copywriter in London, New York and Sydney. Following studies at the National Art School in 2012, he moved to Braidwood on the Southern Tablelands of New South Wales to work as an artist full-time.
Isabelle Toland
Isabelle Aileen Toland is a co-director and co-founder of Aileen Sage Architects – a collaborative design studio established in Sydney in 2013. Aileen Sage is an emerging practice, whose approach to architecture endeavours to reach beyond the just the built outcome to consider the life of places and the stories they hold. Prior to establishing the company, Isabelle worked for award winning practices including renowned Japanese architect Shigeru Ban in his Europe office in Paris and Neeson Murcutt Architects in Sydney.
Her experience has ranged from complex high-end residential and commercial projects, to urban community projects and remote temporary campsites. She was one of the three Creative Directors for the Australian Exhibition at the 2016 Venice Architecture Biennale and is a member of the State Design Review Panel for the NSW Government Architect and Department of Planning and Environment.
Gina Mobayed
Gina is the Director at Goulburn Regional Art Gallery and has delivered hundreds of exhibitions and experimental projects with galleries and museums in Australia and abroad. Previous to landing in Goulburn she managed a significant portfolio of clients for Artbank, the second largest collection of Australian contemporary art in the world.
Gina has worked on site-specific commissions, public art and installed thousands of works in public and private spaces in cities across Australia. She has presented exhibition in trucks, theatres, rooftops and carparks. Her latest curatorial project with artist Arlo Mountford (and inside a Gallery) was 'Deep Revolt' which will tour across Australian from 2019.
Image credit: Coarse Stories, 2018 installation view at Goulburn Regional Art Gallery. Photography by Ashley Machevicius.
All Events