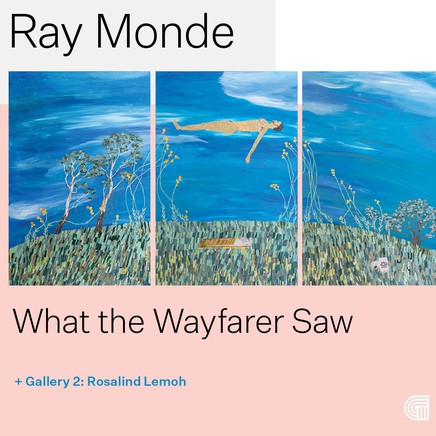 Event
Ray Monde 'What the Wayfarer Saw', Rosalind Lemoh and Helen Stephens
Opening Night
Friday 18 March 2022
6:00PM - 8:00PM
Free
Join us at 6pm, Friday 18 March to mark the opening of three new exhibitions: Ray Monde's 'What the Wayfarer Saw', Rosalind Lemoh in Gallery 2, and 'The Window' curated by Helen Stephens.
Nick Mitzevich, Director of the National Gallery of Australia, will be joining us to open these exhibitions.
Ray Monde will present a new body of work, What the Wayfarer Saw. The exhibition charts the artist's 86 kilometer journey on foot from Goulburn to Braidwood over six days. The measured and slow pace of walking allowed Monde to deeply connect with people and place. This beautiful and brutal walk highlighted Ray's personal experience of queerness within the framework of regional Australia and involved a process of vulnerability, exchange and openness.
Rosalind Lemoh presents a series of sculptural forms in Gallery 2. Yass-based artist Lemoh actively explores her identity as a female artist of colour working within an Australian context. Using casting processes, light, and Perspex, the works in this exhibition seek to translate internal psychological spaces into sculptural forms.
Helen Stephens, local artist and curator, has curated this iteration of 'The Window'. Stephens is avid supporter of the Gallery and regionally-based artists and in her selection highlights work by the Canberra-based artist Lynne Flemons from the Gallery's permanent collection.
Bookings are essential, and can be made here.
All Events