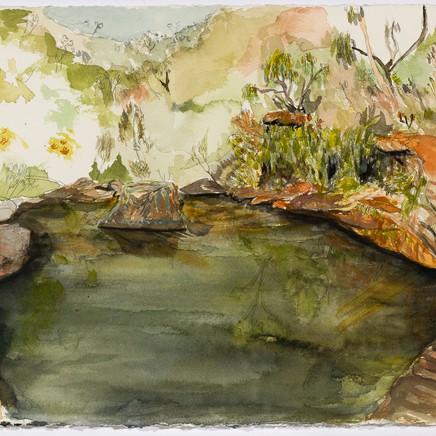 Event
Masterclass, exploring a contemporary approach to watercolour
Workshops
Saturday 11 January 2020
10:00AM - 4:00PM
$95
Saturday, 11 January
For artists 15 years and older
Book your place to share an intimate making experience with Claudia Nicholson.
You'll begin with a private viewing of 'Of the Sun' and hear from the artist herself, providing an insight into her practice and process. Working to address connection to place, Claudia is a multidisciplinary artist whose work is as fascinating as it is beautiful.
The practical sessions will be held in our new Education Studio; Claudia will demonstrate various watercolour techniques before handing it over to you to begin your own experimentation. The entire afternoon will be yours to create a masterpiece under the guidance of the artist. Questions and curiosity are encouraged! Please bring reference images if there is something specific you wish to achieve.
Participants will be provided with a range of professional grade materials and baked goods to keep the body and mind sustained. Workshop price covers all materials and catering.
Bookings can be made via eventbrite or direct with the Gallery on 4823 4494.
Claudia Nicholson, 13/07/2018, 2018, Watercolour on paper, 28.5 x 39.5cm (unframed).
All Events