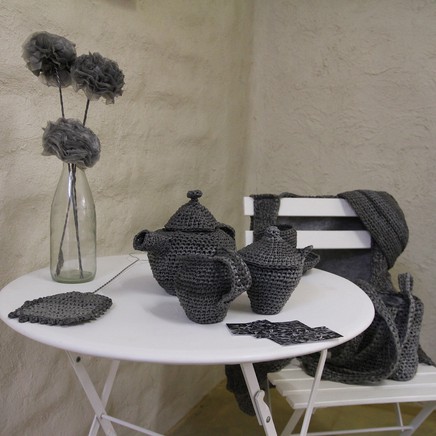 Event
Kitchenalia & 2013 Goulburn Art Award Winner S.A Adair
Opening Night
Thursday 28 August 2014
6:00PM - 8:00PM
Free
Join us for the opening of two exhibitions to be launched by Geoff Jansz, Chef, writer and TV Presenter.
Who doesn't cook or hang out in the kitchen? With cooking shows and competitions flooding our TV screens, we all fancy ourselves as culinary experts. So we decided to find a group of artists who work with the Kitchen theme: pots, pans, utensils, white goods, wrapping, eating, just drawing, painting or sculpting associated kitchen things and bring you this eclectic mix of media? From the delightful and surprising to plain old weird, you will find it in Kitchenalia.
Canberra based artist S.A. Adair's work reflects an internal landscape – a psychological space. Vestiges of thoughts, experience, reflections of the human condition and future concerns are recurring themes in my practice. Through methods of deconstruction, elimination and reconstruction of material and form, Adair draws on processes of abstraction to create organic forms and notations as a way of opening space for interpretation and exploration. Adair works within both a two and three dimensional construct, blurring the boundary between the two as a means of integrating both my drawing and sculptural interests.
Image: Birte Larsen, Tea for One (detail), 2012. Plastic bags, canvas, felt, metal wire and resin, 150 x 200 x 90cm
All Events