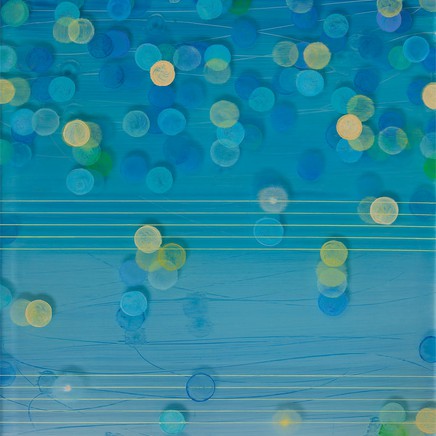 Event
Kaye Mahoney: Moving Imagery
Opening Night
Saturday 8 October 2011
2:00PM - 4:00PM
Free
Join us for the opening of 'Kaye Mahoney: Moving Imagery' to be lanched by Professor Sasha Grishin AM, FAHA followed by a musical performance by Mahalia Barnes & Ben Rodgers.
Kaye Mahoney's 'Moving Imagery' presents her vision of the timeless, infinite and energetic possibilities of worlds we inhabit, discover or create. Drawing from both musical and visual compositional strategies to create images that allude to a sight/sound synesthesia, Moving Imagery is in tune with much that is embedded at a fundamental level in nature, physics and biology, centering on consciousness and reflection and evoking the elemental phenomena of life: air, water, sound, light and energy. The exhibition includes major works on canvas, seminal and current works on Perspex and video, and an installation titled 'Library of Human/Nature'.
Exhibition continues until 4pm Saturday 29 October.
Image: Kaye Mahoney, '2.5D Composition: Floating notes in Adventurous Blues', oil on perspex, 40.5 x 35.5cm
All Events