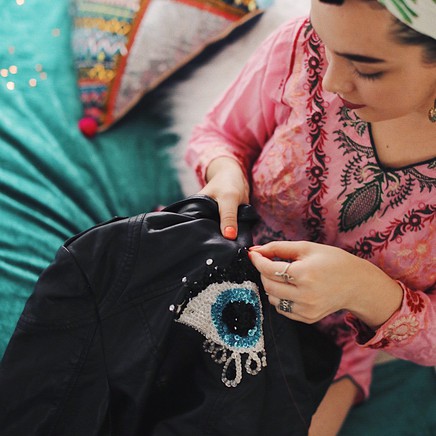 Event
Jazzle up with Lillie Brown
Workshops
Tuesdays
5:30PM - 7:30PM
$95
How to upcycle all your old faves
Tuesdays 21, 28 May & 4 June at 5:30pm - 7:30pm
Join us on Tuesdays to learn the art of upcycling. Lillie Brown will give you the run-down on several embroidery and beading techniques and then it's over to you to put some love into that special something. All you need to bring is a few pieces of clothing you'd like to upgrade. We will supply a host of rad jazzle and a few refreshments to get you stitching.
Workshop suitable for adults of all skill levels.
Price covers the three sessions and all materials.
Lillie Brown
Lillie Brown, styled to a tee, is a born and bred Goulburn artist now based in Sydney. Having worked in the arts for several years, first as Arts Administration Officer at Southern Tableland Arts and now with Creative Plus Business, this renegade embroiderer loves helping young regional creatives get their business act together. Dedicated to sustainability and eco-friendly approaches, Brown believes in upcycling and op shops like a pro in building her sense of style.
Bookings can be made via Eventbrite or direct through the Gallery.
All Events