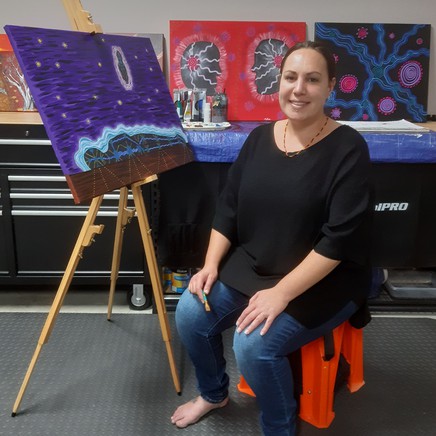 Event
'Heal Country' with Monica Bridge
School Holiday Workshop
Friday 9 July 2021
10:00AM - 12:00PM
$35
For children 6 years and older.
To mark NAIDOC week, proud Muruwari woman and local contemporary Aboriginal artist Monica Bridge will work with young participants to create a painting connected to this year's NAIDOC week theme, 'Heal Country!'
Monica Bridge works in the disciplines of painting, drawing and sculpture to reflect her connection with culture and country. Her work explores the themes of country and people; displaying the importance of our waterways, plants, animals, and insects, and the different emotions that people feel.
Monica will begin the workshop with a discussion about this year's NAIDOC theme, asking the question "what does 'Heal Country' mean to you?" The discussion will include the importance of our native plants and animals, Aboriginal Totem's, and some traditional plant use by Aboriginal people. A short story 'What is a Totem' will be shared, along with some images of Monica's paintings. Following this discussion, participants are invited to paint their own Totem animal or plant onto their individual round canvas. As participants paint, Monica will discuss some of her painting techniques, including the use of Aboriginal symbols and dots, which participants will have the opportunity to experiment with in their art.
Bookings can be made direct with the Gallery or via Eventbrite.
All Events