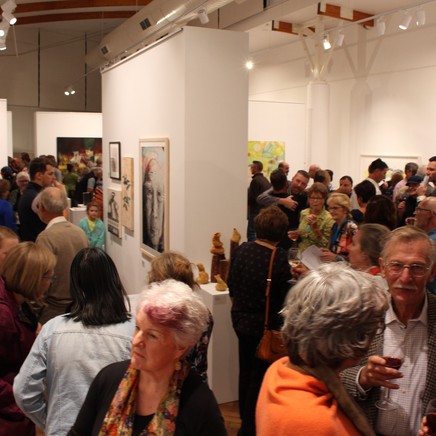 Event
Goulburn Art Award
Opening Night
Friday 20 April 2018
6:00PM - 7:00PM
Join us at 6pm on Friday, 20 April for our next opening, to be officially launched by Mayor Bob Kirk; the 2018 Goulburn Art Award and the inaugural exhibition from our Outreach Workshops, funded by IMB Community Foundation.
2018 Goulburn Art Award judge David Broker, Director of Canberra Contemporary Art Space will select the winner of the Award as well as his choice for Highly Commended and the Young Artist Award. Winners will be announced at the opening and with over 60 finalists, the exhibition will be a true celebration of the artists in our region.
It's an all local line up (we've already got the Lerida Wines chillin') so join us in celebrating our creative community. See you there and... Congratulations to all the finalists!
Philip Alldis, Linda Bottari, Julie Bradley, Betty Bray, Peter Collins, Zara Collins, Patrice Cooke, Elaine Cornwell, Max Cosyn, Bill Dorman, Liz Faul, Karyn Fearnside, Lynne Flemons, Alison Ford, Jeffrey Frith, June Furbank-Savill, Cecile Galiazzo, Janette Hanrahan, John Hart, Toni Hassan, Narelle Hillsdon, Robin Howard, Kirsten Jeffcoat, Freya Jobbins, Patti Jones, Mark Kelly, Robyn Kinsela, Jenifer Kirk, Birte Larsen, Lucinda Mcdonald, Kerry Mcinnis, Fred Magro, Ray Monde, Kim Morrison, Judy Mylonas, Barbara Nell, Brad Nichol, Helen Oprey, Stavros Papantoniou, Jemima Parker, Meredith Peach, Michelle Peddle, Marion Platt-Hepworth, Judi Power Thomson, Claire Primrose, David Ryrie, Sukvhinder Saggu, Gail Stockley, Jordan Stokes, Naomi Taylor Royds, Beverly Thomas, Peta Thurling, Iona Walsh, Mark Ward, Travis Williams, Kerry Willdin, Heidi Wursten, Zuza Zochowski
Young Artists Finalists
Maeve Carragher, James Caulfield, Sophie Christis, Gabrielle Day-Tetley, Sarah Dunne, Kyle Mitchell, Cooper Pearce, Norman Stanger, Bronwyn Webster
Exhibition continues until 28 April.
All Events