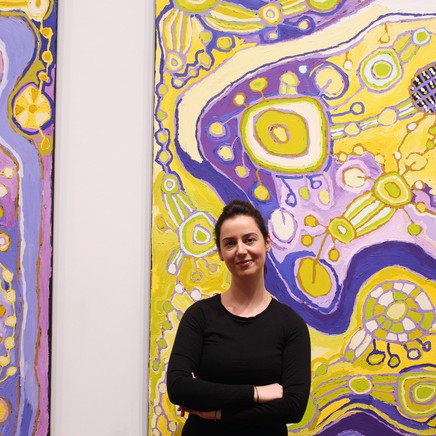 Event
Get to know the shows. Director's cut with Gina Mobayed + Q&A with Aishah Kenton and Hannah Gee
Talk
Friday 13 December 2019
1:30PM - 2:30PM
Free
It's been a long time waiting, but our summer shows have arrived. Join us amongst a truly gut-busting line-up of artists for behind-the-scenes chats on creating and curating.
First up, Director and curator of 'Of the Sun' Gina Mobayed walks us through the main space. An exhibition of works from all corners of the continent, 'Of the Sun' explores seven unique practices that posit new perspectives on landscape as a story, a feeling, a journey. Come along to see how far painting, printmaking and tapestry can be pushed, and all the thinking that goes into getting it here.
In Gallery 2, Aishah Kenton tells of the Australian trek that inspired her latest photographic series 'Second Exit'. This Q&A session with Program and exhibitions coordinator Hannah Gee delves into photography as documentation, social navigation and aesthetic authority.
Light refreshments will be served in the workshop afterwards, where you can view the micro exhibition presented in 'The Window' curated by the Gallery Volunteers.
All Events