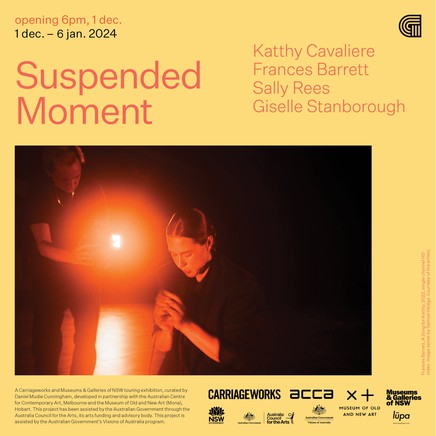 Event
Exhibition Opening and Artist led tour of 'Suspended Moment'
Opening Night
Friday 1 December 2023
6:00PM - 8:00PM
Free
Join us at the Gallery for the final opening of 2023, a chance to celebrate one last time with the team and brilliant artists in our program. Book in and farewell the year with us in style!
From 6pm, there will be an Exclusive artist-led tour of Suspended Moment with Frances Barrett, Sally Rees and Giselle Stanborough with curator Daniel Mudie Cunningham. Followed by Exhibition Opening Festivities. Refreshments provided.
Goulburn Regional Art Gallery is the final venue of this major touring exhibition. The exhibition in this iteration will be supplemented by additional works made by Katthy Cavaliere featured in the Gallery's permanent collection. Some of these works reflect Cavaliere's connection with the Gallery and Goulburn during her lifetime.
Don't miss this unique opportunity to gain insight direct from the artists and curator.
Opening in Gallery 2 is Soil Breathes - an installation presented by artist Sophia Dacy-Cole. Based in Wamboin, Dacy-Cole's work invites viewers to step into soil's own scale through the use of audio-visual media, microscopic imagery and sounds collected from the artist's locale.
Curating this iteration of The Window is Goulburn-based writer and teacher Andrew Moss. We can't wait to see what words are paired with his selection of artworks from the Gallery's permanent collection.
This event is open to all and free of charge, with bookings essential. Click the button below to book your tickets.
All Events