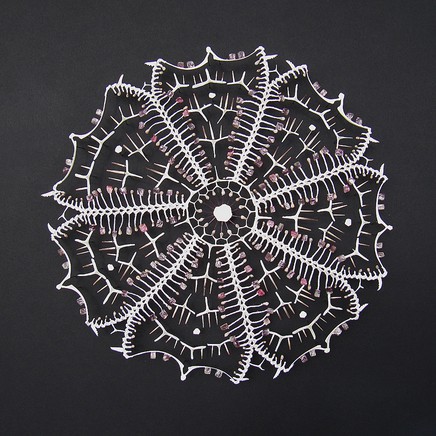 Event
Efflorescent - a contemporary take and Weereewa: Alternate Histories
Opening Night
Join us for the opeing of two exhibitions to be launched by by Angus Stewart, NSW Presenter for Gardening Australia, Horticulturist, Radio Presenter and Author.
'Efflorescent' is definitely not just about a vase of flowers. A contemporary take on a floral exhibition, it looks at the many ways artists are moved to create works from their connection with flora, whether it is a literal representation, a borrowing of an organic form or the use of plant materials as a medium.
'Weereewa: Alternate histories' is an Indigenous response to the Lake with artists Jennifer Kenmarre Martiniello and Lyndy Delian. A surround-style work recreating the Lake George escarpment and the Weereewa lake bed, using glass fish baskets, fish scoops, dilly bags, textile prints and ceremonial body painting fingerprints.
Image: Shona Wilson, Interlace No. 7, 2010, doily fishegg carapace, crab claws, bones, seeds and plastic. 48 x 49 x 7 cm. Shona Wilson is represented by Mossgreen Gallery, www.mossgreen.com.au.
All Events