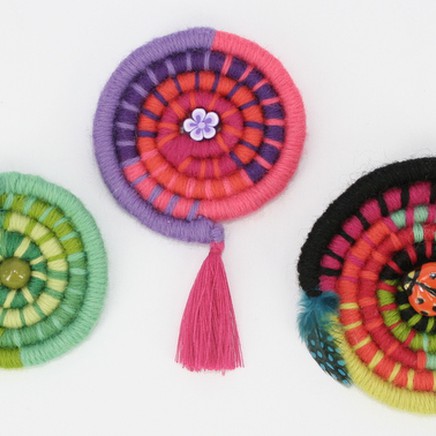 Event
Colourful Coiling with Fiona Hammond
Workshops
Saturday 1 June 2019
10:00AM - 4:00PM
$85
Make your own artwork inspired from 'un:Seen'
Saturday 1 June at 10am - 4pm
Gear up for a trek into coiling techniques! The mastermind behind Chiatanya Designs in Lake Bathurst, Fiona Hammond is a jack of all textile trades, with plenty of colourful approaches to wake you up before winter sets in.
Hammond will walk you through her coiling process used in the textile show 'un:Seen'. Participants will learn how to create coiled vessels of all varieties and leave with their very own uniquely designed basket.
Workshop suitable for adults of all skill levels.
Price covers the session and all materials.
You won't want to miss a stitch!
Fiona Hammond
One of the twenty untethered fibre artists represented in un:Seen, Fiona Hammond has been a practicing artist since the 80's, and has worked with coiled basketry techniques since 2013. Hammond's broader practice includes hand stitching, fabric layering with possible dimensional qualities, coiling with cord and yarn, and the addition of bead work. Holding a Diploma of Teaching and travelling across Australia to teach her workshops, Hammond is an enthusiastic teacher who encourages her students to try new things and let their creativity flow.
Bookings can be made via Eventbrite or direct through the Gallery.
All Events