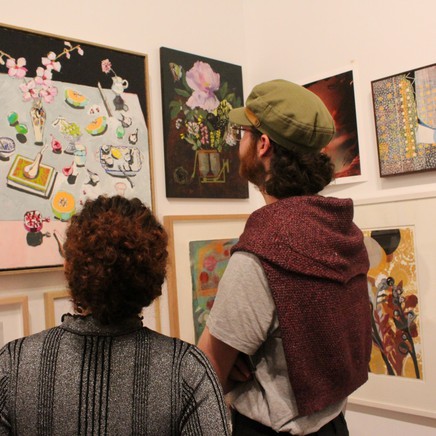 Event
Closing with Jazz
Closing event
Friday 17 June 2022
6:00PM - 8:00PM
Free
We had so much fun at the opening, we've decided to have another one - this time at the show's end.
Join us in the Gallery amongst this fabulous conglomerate of local practices. Enjoy a sip, take in a final glimpse of the works, and listen to some brilliant musical pieces from Wingello-based performer Keva Abotomey.
Image: 2022 Goulburn Art Award, Kate Vella 'Orchids, fruit and oysters' 2022, Michele England 'Golden wattle song in an exotic garden' 2021, Julie Bradley 'Finding my way' (detail), 2021, Mez Breeze, 'Post Glee[son] – Outside [R]' (detail) 2022, Ian Jones, 'Dante's walk' (detail) 2021 and Slavica Zivkovic 'Suburban memoir' (detail) 2021. Courtesy Goulburn Regional Art Gallery.
This event is free, but bookings are essential, so secure your ticket here.
All Events