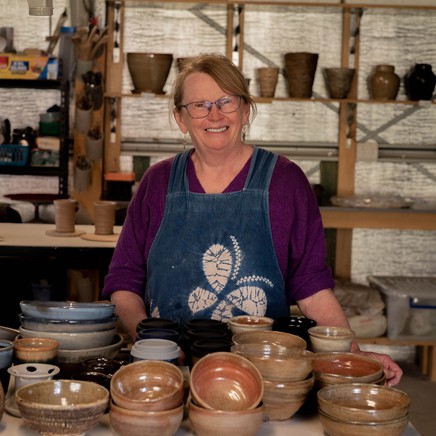 Event
Ceramics with Helen Eatough
Workshops
Tuesdays
5:30PM - 7:30PM
$230
This workshop is now full. Please contact the Gallery to register your interest.
Tuesdays 22, 29 March, 5, 12 and 19 April
Join us over five weeks for an exploration of ceramics after hours with local ceramicist, Helen Eatough.
This program has been designed for all levels of ability, from beginners to experienced ceramicists. Over the five weeks you will be treated to a comprehensive exploration of techniques including hand building, coiling, slab building, pinch pots and surface texture techniques. Your completed works will be fired and returned to you, inclusive of your term fee.
We will supply all the required materials for your creative making.

Helen Eatough
Helen Eatough has over 23 years' experience in making and experimenting with a range of ceramics and pottery. In 2015, Helen founded Woodbine Cottage Pottery in order to extend her own practice as well as establishing an inviting place where individuals of any skill level can learn and develop skills in ceramics and pottery. She is highly qualified, having completed a Diploma of Ceramics at the Australian National University and numerous fine arts TAFE courses. Helen regularly exhibits her work as well as teaching classes at the Canberra Potters Society.
Helen's approach to ceramics is experimental and innovative, embracing new materials and techniques. She is regularly commissioned to create bespoke ceramic pieces, with previous projects including cups, specialised platters, chess sets and an open fire cooking pot.
Bookings can be made via Eventbrite or direct with the Gallery.
All Events