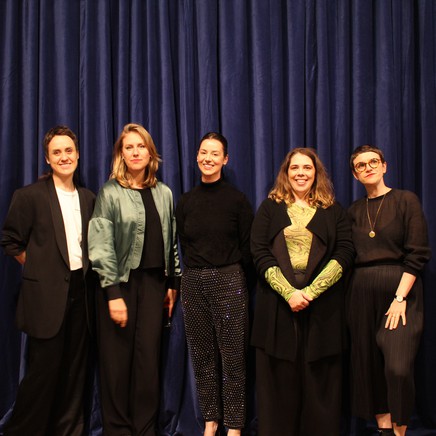 Event
Barbara Cleveland Catalogue Launch and Convo with Gina Mobayed
Talk
Saturday 14 November 2020
2:00PM - 3:00PM
Free
Join us on Instagram Live and in the Gallery for Barbara Cleveland's catalogue launch and an in conversation with Director, Gina Mobayed.
Barbara Cleveland is an Australian artist collective directed by Diana Baker Smith, Frances Barrett, Kate Blackmore and Kelly Doley, working on Gadigal land (Sydney). Taking their name from the mythic feminist performance artist who they recovered from the margins of Australian art history, Barbara Cleveland's projects are informed by queer and feminist methodologies that draw on the historical lineages of both the visual and performing arts.
In creating their solo exhibition 'Thinking Business', Barbara Cleveland recount fifteen years working together since meeting in art school. The collective's propensity for endurance performance, and their enduring relationship as artists is illustrated by their video works, and the show as a whole. Join Gina Mobayed in looking back with them, in a special artist talk and book launch that brings this ambitious and meaningful exhibition to a close.
Spaces are limited, so bookings via Eventbrite are essential for a socially distanced seat in the room. Otherwise, tune in at 2pm to Instagram stories when we hit the Live button and ask all the questions behind this most powerful group of women in our space.
We invite questions from the audience so get in touch with us via artgallery@goulburn.nsw.gov.au or feel free to shout out questions over the gram.
See you there!
All Events